Liquor Store
A small selection of what we offer in the whiskybar can be bought in our small liquor store (exclusively high alcohol spirits).
The Whisky & Gin home tasting sets
The basis W&G home tasting set consists of 4 minitures of 20ml whisky or other distillate and comes with a tasting glass, water dropper and instructions. Prices from € 25,00.
The luxury version consists of 4 tubes in a black gift box with magnetic closure. A tasting glass and an elaborate description of the spirits and background info come with the set.
Visit us or call us during opening hours on 076 8874868 to discuss your preferences and wishes. You can also use this Order form.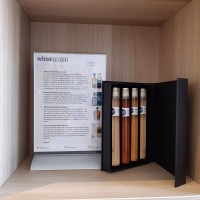 Whisky Tasting Set
LUXURY TASTING SET EXAMPLE
1. Green Spot Zinfadel cask finish 46% Ierland
2. Edradour Caledonia Sherry cask finish 46% Highlands
3. Whistle Pig Straight Rye Whiskey 50% Canada
4. Arran Peated Pinot Noir cask finish 58% Isle of Arran
This example tasting set costs € 42,50
CONTACT