Liquor Store
Tasted something really nice in our whiskybar? Take your favorite bottle home or give away as a present! Note that not all distillates from the bar are available in our small store, but we do have a fine and ever changing collection of whisky, gin, rum, grappa, mezcal, cognac, armagnac, jenever and other high spirits. Our Exclusive Vault is dedicated to the independent bottlers such as The Ultimate, Hart Brothers, James Eadie, Murray & McDavid, Claxton's and Gorden & MacPhail. Liquor store and gift shop are open when the bar is, but close at the latest at 23:00 hrs.
Have you been looking for a special bottle of whisky, gin, calvados or cognac for quite some time? Try us: we might be able to order your desired bottle through our network and partners. We deliver personally in Breda and ship throughout the Netherlands and Belgium.
The Whisky & Gin HOME TASTING SET
Our home tasting set consists of 4 miniature bottles of any distillate, an appropriate tasting glass and water dropper. In our liqour store you can purchase a ready-to-go flight or compile a home tasting on the spot from the menu in our café. If you choose a gin-tonic or cocktail combination you will receive a bottle of tonic water or mix drink, a glass and the available matching dried herbs as well. See the images below for an impression of the home tasting sets. NEW is the luxury version: 4 tubes of distillate in a black gift box with magnetic closure. An elaborate description of the spirits and backgroud info comes with the set. An excellent choice for a gift to a whisky lover which we can deliver for you upon request.
Call us during opening hours on 076 8874868 to discuss your preferences and wishes. Our aim is to provide you with a tasting of your personal liking. At all times you can order through the ORDER FORM.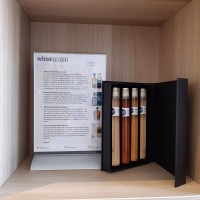 LUXURY TASTING SET EXAMPLE
1. Green Spot Zinfadel cask finish 46% Ierland
2. Edradour Caledonia Sherry cask finish 46% Highlands
3. Whistle Pig Straight Rye Whiskey 50% Canada
4. Arran Peated Pinot Noir cask finish 58% Isle of Arran
Cost of chosen category + € 10,00 extra
ORDER HERE
HOME TASTING EXAMPLE WHISKY:
1. MILD: Suntory Toki blend 43% Japan
2. RICH: Jura Seven Wood single malt 42% Scotland
3. RICH: Few Rye Bourbon 46,5% - USA
4. PEATED: BenRiach single malt 46% - Scotland
ORDER HERE
HOME TASTING EXAMPLE GIN-TONIC
1. Caorunn Scottish Gin 41,8% - Fever Tree Indian Tonic - apple
2. Damrak Amsterdam 41,8% - Fever Tree Indian Tonic - orange
3. Dutch Courage Old Tom's Gin 40% - Fever Tree Indian Tonic - ginger and black pepper
4. Saffron Gin (France) 40% - Fever Tree Indian Tonic - coffee beans
ORDER HERE